the "MATCHLESS" electronic music project and their self-produced debut album
MATCHLESS is an Italian electronic music duo that combines the individual skills and artistic tastes of Miriam and Liliana Neglia into something incredibly unique. The project is born during the first quarantine, a period where the constraint of isolation united even more the different but complementary personalities of the two sisters.
Miriam's background consists in the study of vocal jazz technique, the research on sound through the use of effects, and the passion for synthesizers and electronic music production. Liliana, on the other hand, focuses on the study of past beats and grooves, from alternative rock to trip-hop, with the will of creating the contemporary sounds which characterize her.
The perfect combination of union and harmony gives back a kind of music in which strength and artistic freedom coincide with a fresh and engaging style.
Their debut album "MATCHLESS" has been released on the 29th of October 2021 for the independent Italian label theDustRealm Music, and it represents a unique and personal journey through the emotional universe of the two artists.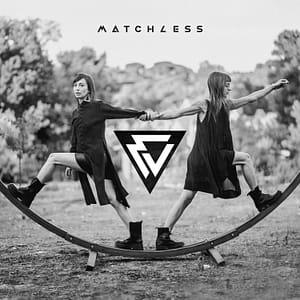 MATCHLESS Remixed
In 2022 the MATCHLESS duo is engaged in producing their second studio album. They're also working on the new live show. In the meantime, they begin to release a series of remixes of the tracks from their first album. Their goal is to release a "MATCHLESS remixed" compilation at the end of the year. It's a remixed version of their entire debut album and contains ten remixes produced by ten artists from the Italian underground electronic scene.
The MATCHLESS Remixed was released on 11 November 2022 and contains remixes made by electronic music producers such as Push Against New Fakes, Khloro, Bress Underground, Frank Sinutre, Resonanz Kreis, Paraguaj, RAIS, Sis, Bob Rage & Peanuke and Rich Machines.